Your home is your castle, but that doesn't mean you should start renovating it without first checking on needed kitchen remodeling permits! Working without needed permits can result in hefty fines from your city or county as well as needing to undo your work or bring it up to local codes.
A building permit is required for work that changes the shape or structure of a home or that affects its structural integrity, such as removing load-bearing walls or installing new cabinets and windows. Work done according to local building codes, such as plumbing and electricity, also typically requires a permit.
Whether your kitchen remodels plans include just changing a few surface materials, or if you're planning a full-scale tear-out, it's helpful to note some details about kitchen remodeling permits. It's also recommended that a homeowner checks with their local city or county regarding their plans, as these requirements vary from location to location. Building inspectors and permits ensure a home is structurally safe and that you don't create a fire hazard or risk of a plumbing disaster, so it's vital you comply with local regulations!
Remember, too, that most if not all kitchen renovation contractors are familiar with work requiring permits versus tasks you can manage without them, and typically pull all permits themselves. If you're unsure of how to proceed with your kitchen renovation plans and especially if those plans affect your home's overall structural integrity, invest in a kitchen renovation contractor to manage the work for you.
Do I Need Kitchen Remodeling Permits for My Plans?
To help you understand if you need kitchen remodeling permits for your plans, note that most areas require a permit for alterations, partial demolitions, repairs, and additions. Anything affecting electrical and plumbing, ventilation, and the weight of your home also typically requires a permit. Consider some added details about what that means, and remember that these requirements will vary from location to location.
 

Work requiring changes to plumbing features usually requires a permit. For example, if your home is without a dishwasher and you want to run new pipes to the kitchen and install one, you will probably need a permit. Removing and replacing the current dishwasher without changes to the home's plumbing fixtures, however, typically doesn't require a permit.

Cosmetic changes such as installing new flooring, repainting or refinishing cabinets, replacing light fixtures and faucets, and replacing or refinishing countertops typically don't require a permit.

The exception to cosmetic changes is anything that might change the weight of the home, which can require added bracing and other such support. For instance, if you'll be installing heavy stone flooring or replacing kitchen cabinetry, you might need permits for this work!

Note that doorjambs and window frames need added structural support; if you're planning on installing new windows, or enlarging or relocating interior doorways, you are typically required to pull permits for that work, to ensure your home is structurally sound around those openings.

Local building codes cover a home's electrical systems including switches and plugs, and especially in a kitchen where plumbing fixtures are in close proximity to wiring! If you want to add or relocate outlets and switches, you will probably need permits for this work.

Kitchen ventilation systems are also typically considered part of the home's overall structure, and affect fire safety; if you want to add a vent, relocate the current vent, or otherwise alter the ventilation system in the kitchen, check on needed permits first.

Removing or adding walls usually needs a permit, as this changes the overall structure of your home and can mean added weight on overhead beams and the home's framing.

 

Changes involving load-bearing walls almost always need a permit no matter how small the change. If you wanted to create a cutout in a load-bearing wall, for example, you'll probably need a permit even if you only want to remove a few square feet of wall materials.

Remember that many rooms in a home usually need an egress, meaning their own means of exit, in case of fire. Never close up a window or rework the footprint of a space, especially if that means adding a wall and creating an entirely new room in the home, without checking on local building and fire safety codes, and if you'll need a permit.
Do I Need a Permit to Install New Kitchen Cabinets?
Refinishing kitchen cabinets, meaning painting or staining them while they remain attached to the home's walls, doesn't typically require a permit, even if that work includes removing doors and drawers. However, if you're planning on removing the cabinets and installing new ones, or if space doesn't have cabinets currently, some cities and counties require you to obtain a permit first.
The reason this work might require a permit is that kitchen cabinets put tremendous weight on a home's framing. Improper installation including low-quality connectors and uneven hanging can result in those cabinets coming away from the walls! Not only would this mean costly damage to all the items stored in the cabinets but also the risk of injury to anyone in the immediate area.
If you're not sure how to hang cabinets properly or if you'll need a permit, rely on a kitchen renovation contractor. Many of them will handle new cabinet installation, ensuring level cabinets properly installed and that will pass any building inspection.
How Much Does a Kitchen Remodel Permit Cost?
Generally speaking, a kitchen remodel permit ranges from $500 to $1500, depending on the work being done and value of the home and remodel. Most municipalities take around two weeks to approve a permit once you've applied, but this process can often be done online and the permit mailed to your home. You don't always need to come into a licensing office and wait in line for your application or to pick up the permit once approved!
If you're not sure about your work and if it will require a permit, many cities and counties provide online lists of projects that require permits as well as questionnaires you can fill out, describing your work. This information can then give you a general idea of whether or not you'll need a permit, and you can also call the city or county office, if needed, with further questions about permits, costs, and other such issues.
What Happens If You Don't Get a Permit for a Kitchen Remodel?
Never start a kitchen remodeling plan without needed permits! If a building inspector notes that you're renovating a kitchen without needed permits, he or she can shut down your project, insist you redo your work and return the home to its original condition or bring the home up to code, and levy a fine!
The cost of permits is typically far less than the cost and hassle of those fines and fees from your city or county. Getting a permit is also far less costly and means less hassle than tearing out your kitchen renovation materials and returning the home to its original condition!
Note, too, that your homeowner's insurance might fight to reimburse your costs after a flood, fire, or another such claim if it's found that you went through a kitchen remodel without needed permits and inspections. Your insurance company might argue that some damage and loss is the result of shoddy workmanship and not a fire or flood or another such disaster!
Also, if you should decide to put your home on the real estate market anytime in the future, it will no doubt go through a home inspection and other evaluations. Poor-quality work not up to local codes can mean losing out on potential buyers and getting far less money than you expected if you should find a buyer willing to buy your home "as-is."
A homeowner should also note that building codes and inspections, as well as permits that ensure your plans follow those codes, are in place for your protection! Improper wiring increases the risk of electrical fires, poor-quality plumbing installation can lead to leaks and burst pipes, and improper changes to a home's framing risks collapsed ceilings and buckled floors. To avoid these risks, ensure you're familiar with building codes and permit requirements, or rely on a kitchen renovation contractor to get the work done right.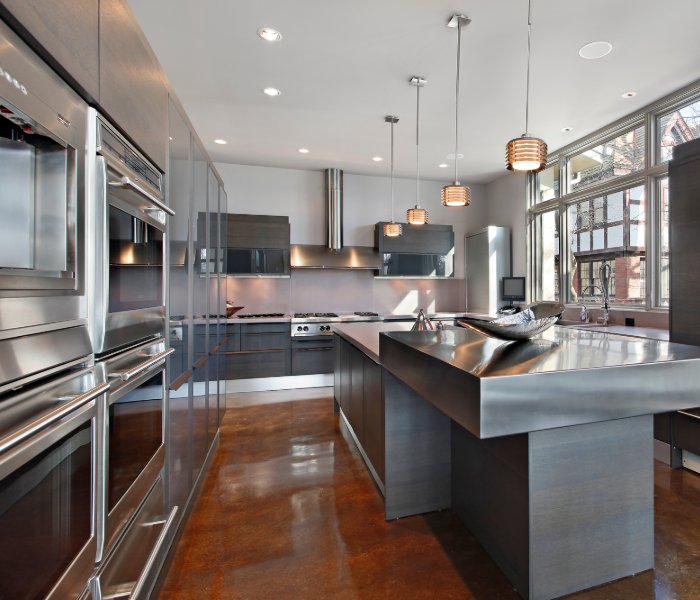 Do I Need Different Permits for a Remodeling Project?
When applying for a permit, you can typically note all the work you plan, including electrical rewiring, plumbing installation, changes to the home's structure, and so on. Rarely will you need one permit for reworking the kitchen plumbing, one for knocking down a wall, etc. In many cases, you can also note work planned for various areas of the home at the same time, if you're thinking of tackling a bathroom remodel along with a kitchen renovation, for example!
However, note that permits have an expiration date and are usually good for no more than 180 days, and this timeframe varies from location to location. You will need to complete all work listed in that permit and arrange a final inspection before that time, or will likely need to apply for a new permit to finish your projects.
This information is proudly presented to our readers by Lifestyle Remodeling, the #1 choice for home renovations in Overland Park, KS. If you still have questions about kitchen remodeling permits or would like to schedule a consultation for a new kitchen or bath design in the Overland Park area, don't hesitate to contact us!