Answering the question of what to spend on a kitchen remodel obviously depends on your budget, but some homeowners have virtually unlimited funds to spend as they choose, and don't want to overspend! Many homeowners also wonder, not just what to budget for a kitchen remodel, but what kitchen remodel materials and features cost the most so they know how to allot that budget properly.
When deciding what to spend on a kitchen remodel, consider how much renovating your kitchen needs to update its style and function, and blend well with the rest of the home. The average kitchen remodel tends to be in the range of $20,000 to $50,000. Also, consider if you want to increase your home's value, and note "must-have" items versus those you want but don't necessarily need.
Since there is no "one size fits all" answer as to what to spend on a kitchen remodel, you might note some commonly asked questions about kitchen renovation costs and budgeting. You can then discuss your budget and renovation needs with a kitchen renovation contractor near you, so you know you'll be happy with the end result for years to come!
How Much Should You Spend On a Kitchen Remodel?
Kitchen Remodel Budgeting Tips
Some renovation experts suggest a "5 to 15" spending rule for your kitchen renovation budget, meaning between 5% and 15% of your home's worth. This is an excellent guideline, but not an absolute rule!
For example, if your home is worth $200,000, you might be ready to spend more than $30,000 (15%) on a kitchen remodel. On the other hand, someone with a home valued at $100,000 might not need to spend $5000 (5%) on the few simple updates they need.
Note a few other considerations to keep in mind when deciding how much you should spend on a kitchen remodel rather than trying to stick to an absolute monetary figure:
If you've neglected to renovate your kitchen for a decade or more, it might need lots of updates and changes rather than just a few simple cosmetic changes. Those updates can easily add up to far more than 15% of your home's current value, so be prepared to budget a bit more than average so your finished space offers the style and function you need.

A neglected kitchen might require new plumbing, electrical features, subflooring, and other such structural changes and upgrades, which can also add to its cost significantly.

Older homes often have small kitchens with equally small windows and entryways, making the space awkward and unattractive. Opening up the space might necessitate reworking the footprint of adjoining rooms, rerouting plumbing and electrical, and other such expensive changes.

Some homeowners might have their heart set on a certain surface material or custom feature, such as marble countertops or a walk-in pantry. If you have the budget for such features, don't allow a certain rule to discourage you from making your kitchen space one you love and that works for you in particular!

If you're discouraged by thinking that you'll need to pay at least 5% of your home's worth for a kitchen renovation, consider that there are many ways to cut costs without sacrificing style or quality features in the kitchen.
What Is the Most Expensive Part of a Kitchen Remodel?
For most homeowners, cabinets are the most expensive part of a kitchen remodel, especially if you opt for custom cabinets or details such as a specialty finish. As cabinets take up a large part of your kitchen's footprint and need lots of skill and expertise to install, it's vital that you consider carefully your budget for new cabinetry. For some homeowners, cabinets can eat up a good 50% of their kitchen renovation costs!
Kitchen appliances are often next on the list; as with cabinetry, the more specialty features and details you demand from your appliances, the higher the costs. Countertops are often next on the list, but it's vital that you not cut corners by choosing a low-end material that might show nicks and scratches or outright fall apart before too long!
In some cases, a kitchen space might need costly repairs and upgrades, as said. Depending on your home's condition, these fixes can also add to your budget significantly. If you're concerned about needed repairs in your space, talk to a renovation contractor before deciding on finished materials so you can then budget for those fixes before deciding on cabinetry, countertop materials, and the like.
The Best Ways to Pay for a Kitchen Remodel
If you don't have the cash to pay for a kitchen remodel, there are a few other ways to afford the renovation you need to have done. Check out a few of those methods here and remember to always spend wisely; ensure you've read the small print on all lines of credit and loans so you're not left with any unpleasant surprises after your renovation is complete!
Home Equity Loan: A home equity loan taps into the equity you have in your home and uses the house as collateral; these loans are often easy to obtain and offer low-interest rates.
Unsecured home improvement loans don't use the home as collateral, so they're often smaller, with slightly higher interest rates, and must be paid within a shorter timeframe, often ten years or less.
Low-interest rate credit cards are easier to obtain than other lines of credit but note that many cards have a low introductory rate and then a much higher interest rate after that introductory period. Ensure you understand all the lending terms before deciding on charging for your kitchen renovation.
Borrow against a retirement plan: Your accountant or financial adviser can note if borrowing against a retirement plan or other savings is a wise financial move, and how it might affect your overall financial portfolio.
Cash-out refinance loans allow you to borrow more than your home mortgage amount; you would then pay off the mortgage and use the rest of those funds for something else, such as a kitchen renovation. The interest rate and payment for these loans can often be lower than your mortgage payment, saving you money in the long run.
You might also note if there are ways you can come up with at least some of the money needed for your kitchen renovation before borrowing. For instance, you might have vacation property or items such as a boat, ATV, or vehicle you never use and can sell. Even coming up with a few thousand dollars in cash will mean paying less on interest rates for loans needed for your kitchen renovation!
How Can I Remodel My Kitchen for Cheap?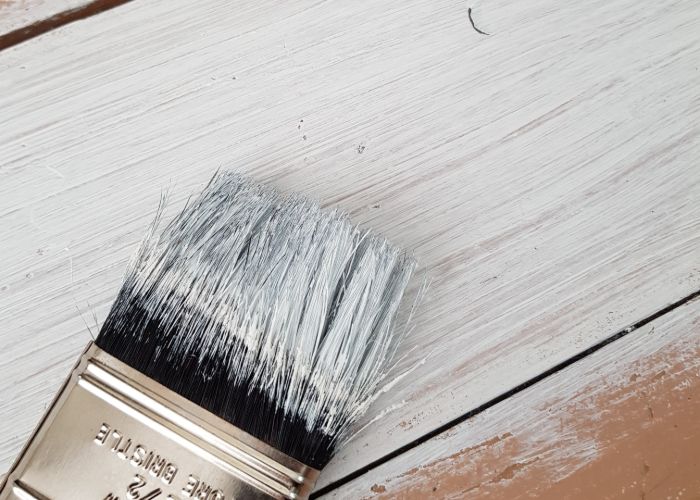 There are some easy ways to cut your kitchen renovation costs without giving up the style you want or function you need from your kitchen. Consider a few suggestions for remodeling a kitchen for cheap:
Repaint, Don't Replace!:

Consider repainting your kitchen cabinets rather than replacing them. If drawers and doors are worn or damaged, they can typically be replaced individually, saving you on the cost of entirely new cabinetry. 

Open Shelving: If you must get new cabinets, consider open shelving in certain areas, as these are cheaper than full cabinets. Homeowners can also typically install open shelves themselves!
Never Pay Full Price: Consider stone remnants, overstock materials, year-end closeout sales, and items that come with a manufacturer's rebate before assuming you need to pay full price for building materials.
Reuse Appliances and Other Elements: "Scratch and dent" or slightly damaged appliances can also look and function as well as new pieces, for far less money.
Tile Over Existing Floors: Note if you can add new floor tiles over the existing flooring, to save the cost of a tear-off.
Is There Anything You Can DIY?: A homeowner should never attempt renovation chores outside of their expertise, but consider if you can paint walls and tear up flooring, or perform other simple tasks on your own, to save on labor costs.
One of the best ways to remodel a kitchen for cheap is to keep as many surfaces and other details as possible, and especially the plumbing and wiring! While some kitchens might need a new footprint or layout, consider carefully the cost of reworking plumbing and electrical features for such changes. You might also forego new appliances, flooring, or other such changes, at least temporarily and until you can better afford them.
Where Should I Save Money in a Kitchen Remodel?
While every surface, material, and other detail of a kitchen is vitally important, there are some areas in particular where you might save money for a kitchen remodel.
For instance, consider basic appliances rather than an oversized, chef-inspired oven and stovetop or extra-deep refrigerator.

Also, consider how you might add custom details yourself rather than paying extra for built-in features. As an example, you might buy a small rolling cart and use that as a coffee bar, rather than having a cabinet custom-built with storage designed for your coffee accessories in particular.

Certain DIY details are also just as functional but far less expensive. Under-cabinet lighting, peel-and-stick backsplashes, rollout shelves, and other details you install yourself can mean saving hundreds if not thousands of dollars on your kitchen remodel!

You might also ask your kitchen renovation contractor where you can save money on your plans or the work itself. Renting a dumpster yourself and helping haul away debris, painting walls, ordering appliances on your own rather than having the renovation contractor manage that, and other such tasks can also save hundreds off your kitchen remodeling costs.
Is a Kitchen Remodel Worth It?
Despite their price tag, kitchen remodels are almost always an excellent investment in your home! Most homeowners can expect to see anywhere from 65% to over 90% of their costs returned in terms of increased property values for their home.
A kitchen renovation is also worth the price tag simply because it means a new space that you'll love! Remember that your home's kitchen might be the one room used by everyone in the family, every single day. An outdated, dull kitchen lacking storage and food prep space can mean constant stress and hassle every time you need to cook, put groceries away, or pack lunches.
On the other hand, creating more accessible storage in the kitchen, adding more light, and otherwise updating the space can mean a welcoming, functional space you'll love. Cooking and food prep will be easier for everyone in the family, and you might also find it more enjoyable to entertain in the space. Today's surfaces are also typically easier to clean than outdated materials, so that even mundane housework becomes more manageable after a kitchen remodel.
Which Remodel Adds the Most Value?
A kitchen remodel often adds a tangible return on your investment in terms of increased property values, but it's not the only remodel that can make your home more attractive to potential buyers and, in turn, increase its value! According to moving.com, two other great ways to add value to your home are by replacing the garage door with something more upscale, and adding a stone veneer to the home's exterior. These both enhance curb appeal while a new veneer can mean added insulation as well.
A wood deck addition is also a great way to increase your home's value, as this is an affordable way to add living space and to improve your property's appearance. New windows also increase your home's value, as these improve curb appeal and insulation while also bringing more sunlight and fresh air into the home's interior.
Lastly, a bathroom remodel also adds value to a home; as with a kitchen, a bathroom is used every day and should be stylish as well as functional. Added storage, a larger sink and tub, and other such features make the space easier to use and especially when shared by more than one person, while updated features create a stylish look you'll love.
Lifestyle Remodeling is proud to offer this information to our readers and we hope it helped you determine what you should spend on your kitchen remodel. When you're ready for a full-service, affordable kitchen remodel, give us a call! We customize our plans to every home and provide FREE quotes, so get started with your need for renovation by calling us today.