It probably seems like there is a smart phone app or program for just about everything today, including DIY kitchen design. While using an app, computer program, online tutorial, or other such tool might make it seem like planning a kitchen renovation is simple enough to manage on your own, this isn't always the case.
A kitchen design app cannot plan for needed repairs before renovation work begins or note common mistakes made by homeowners trying to design their own space, such as blocking outlets or choosing items disproportionate to the space. A kitchen renovation contractor can also offer suggestions for cost savings and advise on needed care and maintenance for certain design choices.
If your home is in need of a new kitchen design and you're a bit worried about your potential kitchen renovation costs, you might note some pros and cons of using apps and other such programs. You might also note some suggestions for helping to keep kitchen remodel costs as low as possible.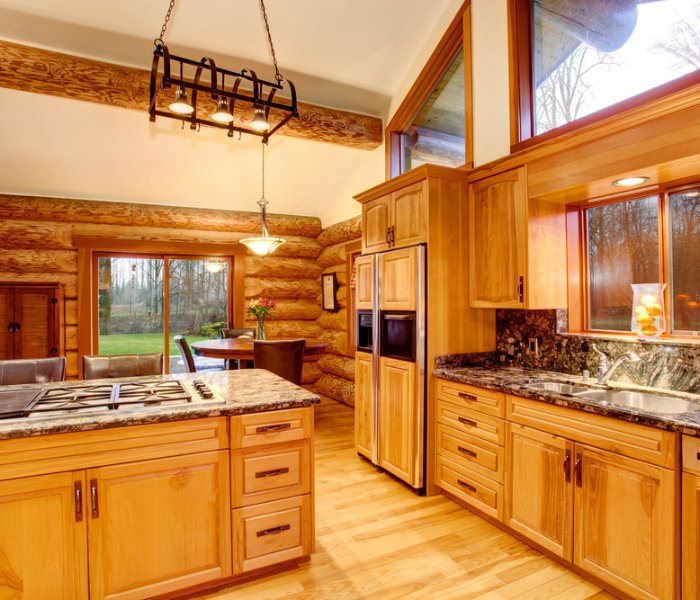 It's also helpful to note a few vital details about kitchen layouts, as well as their pros and cons. You can then discuss your options with a contractor more easily and know you'll end up with a new kitchen design you'll love for years to come!
Why Avoid a Kitchen Design App and DIY Renovation Plans
There are several reasons to avoid using kitchen design apps and programs and trying to DIY your renovation plans. Before you invest in any such app or, worse yet, start tearing up your home's kitchen to start a remodel, note some precautions about apps and other DIY options.
It's not unusual for a kitchen renovation contractor to find areas needing repairs before renovation work begins. These repairs might include added bracing for the subflooring, outdated electrical wiring that needs replacing, mold or water damage behind walls, and the like. An app or online program can't inspect your home's kitchen during renovations or note fixes needed before work begins!
Apps and programs don't always advise on the best layout for a kitchen, only showing you how your plans will look once your kitchen renovation is completed. In turn, a homeowner might mistakenly place appliances too far apart or cut off foot traffic throughout. A kitchen renovation contractor can note if your intended design might somehow become clumsy or awkward to use.
Smart phone apps and programs rarely solve problems you have with a home's current kitchen design. For instance, you might need more storage in the kitchen but have no room for additional cupboards. A kitchen renovation contractor can often work with every client on a new kitchen design that offers added storage, more room for foot traffic, space for dining, and other such options, without sacrificing the look they want or going over their budget.
Kitchen design programs often include costs of building materials as found in local home improvement stores, but can't always suggest ways to save money! A kitchen remodeling company near you might have longstanding relationships with local cabinetmakers or stone cutters so they can negotiate better pricing on certain items, or suggest cost-cutting measures such as stone remnants for countertops or closeout sales.
It's not unusual for homeowners trying to DIY a kitchen renovation to make small mistakes that apps and programs don't always "pick up on." For instance, you might purchase a larger refrigerator only to find that it cuts off access to a drawer along an adjacent wall, or a larger oven whose door then bangs into your new center island!
Not all apps and programs will ensure that you've included every detail in your new kitchen design, such as updated lighting, attractive hardware, a cleaning supply closet, new electrical outlets, and so on. These small touches make a new kitchen design more workable overall and a kitchen renovation contractor is sure to review all those little fixtures and features you'll need in your new space!
When to Use a Kitchen Design App or Program
While it's not recommended that you use a kitchen design app or program for your renovation plans, these tools can be quite useful to a certain extent. For example, it's often difficult to see how your preferred cabinetry color, countertop materials, and other such details will look when installed together! A kitchen design app allows you to see if all your favorite earth tones create a muddy look in the space, if the end result might seem a bit bland and dull, and the like.
A kitchen design app might also tell you if your planned choices might create a cramped and crowded space. If the finished design in your app or online program seems overly busy and cluttered, or if there is very little floor space, you might consider scaling back a few of your options, replacing some cabinets with open shelves, or even removing some cabinets altogether. You might even realize that it's time for a new skylight or window installation in the kitchen, for added brightness and a more open, airy look!
Apps are also useful if you plan on changing the footprint of your home's kitchen or bringing in entirely new elements. For example, if there is no island or dining table in the kitchen currently, you might use an app to try a few different sizes and design options for islands, tables, built-in seating, and so on. If you're thinking of knocking out a wall, an app or program can let you see if that would create the open look you want in the kitchen.
How to Lower Your Kitchen Renovation Costs
Since an app can't always tell you how to contain your expected kitchen renovation costs, you might note some suggestions for ensuring your kitchen design stays under budget. One important consideration is keeping as many of your current cabinets as possible; if the cabinetry is in good condition, you might consider painting or staining them versus replacing them altogether. Oversized, decorative hardware also offers lots of visual appeal for far less money than new cabinets.
When choosing new appliances, it's also helpful to ask your kitchen renovation contractor about sales, manufacturer rebates, and other such incentives. He or she might know of online sites that offer discounted name-brand appliances or might know the best time of year to buy, when manufacturers and stores are eager to get rid of their current inventory!
Note, too, of any added prep work needed for your first choice of appliances and other materials and if that adds to your kitchen renovation costs significantly. For instance, your kitchen flooring might need added bracing to support heavy marble countertops or an oversized island. A commercial-size refrigerator might require upgraded electrical wiring, to meet its increased power demands. These changes add to your kitchen renovation costs, sometimes significantly, so reconsider these options when possible.
While these suggestions might lower your kitchen design costs, remember that a new kitchen renovation is an investment in your home and family! The kitchen might be the one room in the home that everyone in the family uses every day, and old, outdated kitchens sometimes even lower a home's value. Don't "skimp" too much on materials, kitchen cabinets, and other such choices when creating a new kitchen design, so you know you'll be happy with the end result for many years to come.
Kitchen Design Layouts Every Homeowner Should Know
To make conversations with your kitchen renovation contractor easier, note a few common layouts for a kitchen space, the most popular being galley kitchens and L-shaped designs. Galley kitchens are like one long hallway, with counters on either side. An L-shaped design is self-explanatory; a kitchens cabinets run along two adjacent walls, forming an L shape.
Galley and L-shaped kitchen designs are popular as they keep appliances and cabinetry in close proximity to one another. However, if you have the space, you might choose a U-shaped kitchen, which runs along three walls. Be cautious about moving appliances and cabinets out of reach when choosing a U-shaped kitchen.
A peninsula kitchen starts with an L-shape layout but then includes an added peninsula at the end of one counter that juts into the floor plan. This added peninsula provides more storage and food prep space as well as room for casual dining, but can also make a small kitchen seem cramped and crowded.
An island kitchen often refers to any kitchen space with a center island. That center island can be just about any size and design but, as with any other added feature that takes up floor space, ensure it's not so large that it creates an obstruction when cooking or otherwise working in the kitchen.
Related Questions
How much does a kitchen renovation cost?
Kitchen renovation costs vary greatly; a small-scale remodel might run as low as $2000 whereas a full-scale tear-out and new layout might run upwards of $20,000 to $40,000 or even more.
Does a contractor allow you to create your own kitchen design?
Kitchen renovation contractors are concerned with work that is done up to local building codes. They might note concerns and cautions about your proposed kitchen design but as long as your preferences meet those codes and don't create a fire hazard or other such danger, he or she will typically follow your preferences for a new design scheme or layout.